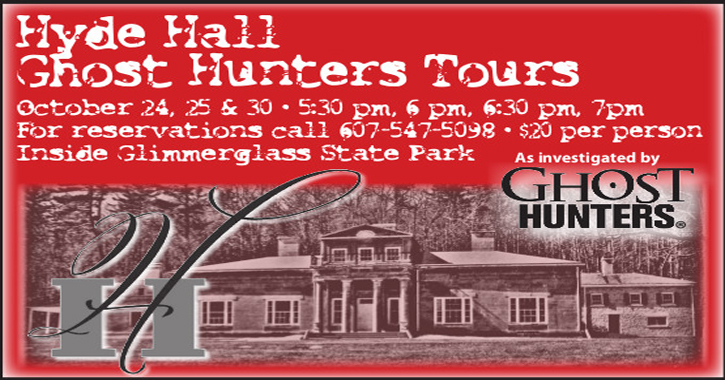 GHOST HUNTERS© TOURS RETURN TO HYDE HALL!
This candlelight tour visits all places in the Mansion where ghostly manifestations have been reported over 150 years, including those identified by Ghosthunters(c) in their Halloween 2013 special.  $20 per person; call 607.547.5098 for reservations.
Last year's popular "Ghost Hunters© Tours" focused on events and places featured on the Syfy cable channel network's popular investigative series, Ghost Hunters in 2013, will return to Hyde Hall this Halloween season.
These exclusive candlelit tours will be held on Oct. 24th, 25th and 30th at 5:30, 6:00, 6:30 and 7:00pm, and are limited to 15 participants each. The cost is $20 per person, and tickets must be reserved in advance.
In early 2013, The Ghost Hunters team spent over a week in Hyde Hall in the chill of March, where they set up ultra sensitive equipment in empty rooms to record continuously through the nights. What they found at Hyde Hall was revealed on their Halloween special, in one of the best Ghost Hunters episodes ever. This year's special candlelight ghost tours on will feature the areas Ghost Hunters found were most haunted.