Cooperstown Dreams Park and A Perfect Vacation: 1, 2 and 3 Bedroom Cabin, Cottage and Townhouse Rentals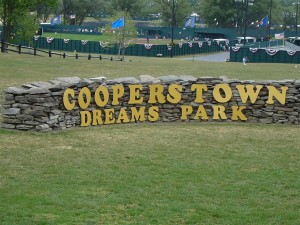 Nothing says summer like the crack of a bat and the crowd cheering for a homerun. And so, just like you, every summer thousands of young players and their families flock to the Cooperstown Dreams Park to fulfill their own dreams of hitting a homerun in the legendary home of baseball. While you are here, visit the National Baseball Hall of Fame and the many other attractions in the Cooperstown area. Then, come home everyday to the beauty and serenity of Fieldstone Farm Resort.
We are conveniently located 12 miles from Cooperstown Dreams Park and nine miles from the Hall of Fame. With our one, two and three bedroom townhouses and cottages, each equipped with full size kitchens and living rooms, we have plenty of room to accommodate your entire team while visiting the upstate New York area. Fieldstone Farm caters to families and we offer activities for "kids" of all ages. Whether its swimming, boating, fishing, playing in the game room or just relaxing with friends, the young and the young at heart will delight in the simple pleasures of life here. We encourage you to bring the boys back during the week and enjoy a team barbeque by our covered pavilion. Let them burn off some energy on the tennis and basketball court while you unwind with the other parents. The younger siblings can entertain themselves on our playground equipment and still be close by.
Stimulator muskel tränare motion bodybuilding smart massage maskin trådlös träning sport press fitness utrustning hem gym dimethazine bodybuilding: bodybuilding: vad som är hett nu: korta bodybuilding -träningspass.
Check out our beautifully landscaped grounds, our rates and our many amenities and you will see why so many families find Fieldstone Farm Resort to be the perfect solution when visiting Cooperstown Dreams Park. So, whether your team wins or loses, Fieldstone Farm Resort is a homerun!