There are many wonderful events in our area each fall – more every year, it seems!  These are a few of our favorites coming up over the next few weeks.
Teacher Appreciation Day at the Fenimore Art Museum, during normal business hours:
Teachers are invited to visit the Fenimore Art Museum without students for a day to preview the newest exhibitions (see the new Lavern Kelley exhibition) and learn more about the programs and resources available to teachers. Teacher Appreciation Days are a time for the Fenimore to say "Thank you!" to our school educators. Pre K-12 educators are admitted free with valid ID or proof of educator status. Guests are admitted at the regular admission rate. For questions, call (607) 547-1461.
Sunday Sounds at Fly Creek Cider Mill, Sundays, September 20, 27, October 4, 11 2015, 12:00 p.m. – 4:00 p.m.
Join a performance by comic lyricist and impressionist, Ody B. Goldy, from noon until 4:00 as he entertains guests with his humorous tributes to well-known celebrities. Name the song and writer and you might win some fresh cider. Please note that in cases of snow or rain Ody's performance will be cancelled.
Train Robberies aboard the Cooperstown-Charlotte Valley Railroad, Saturdays, 9/26 and 10/10, 1pm departure.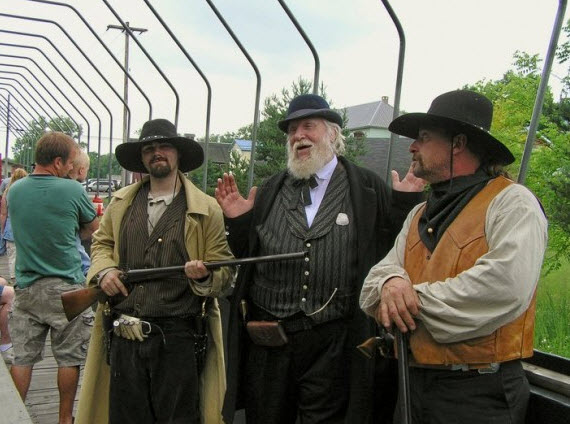 Travel back in time to the exciting world of Outlaws and The Wild West! The train is carrying a strong box full to the brim with money and the local Outlaw Gang knows it. Will the bandits get away with the loot, or will the Lawmen prevail? Find out as a passenger on the Train Robbery featuring action packed shoot outs, period costumes, and fun entertainment for the whole family.
Reservations are encouraged, but not required – please call (607) 432-2429.  Tickets cost $19 for adults, $18 for seniors, $16 for children 3-12, and free for kids under 3.
Cooperstown Blues Express, Saturdays, September 12, 19 and 26, 2015, 7:00 p.m.
The Cooperstown Blues Express in Milford invites you to join them on a 3-hour rockin' blues party every Saturday night from May 16 – September 26, featuring some of the finest bands in upstate New York! You must be 21 with Valid ID. Tickets cost $18 and reservations are encouraged, but not required – please call (607) 432-2429.
Drops to Hops Bike Race, Saturday, September 26, 2015, 9:30 a.m.
Racers of all levels are invited to participate in the Drops to Hops bicycle race, sponsored by Clark Sports Center and Brewery Ommegang. The late September road race is perfect for fall foliage viewing as you ride and has something for every skill level. The event consists of two different length courses that follow mostly secondary roads through the valleys and hills of Otsego County.
The Elite Race ("A" Ride) will begin at 10:00 a.m. and the Citizens Race ("B" Ride) will start at 10:10 a.m.
The "A" ride (43 miles) is for experienced racers only, equivalent to USCF Cat 3-4. Men and women will race together.

The "B" ride (23 miles) is a Citizen's fun race. Despite being labeled as a race, we encourage riders of various levels to participate in the "B" field as long as they are comfortable with the distance and terrain. No experienced "licensed" racers will be allowed to ride in the "B" race. The "B" race will also be a shortened, less difficult route than the "A" course.
Both of the courses start and finish at Brewery Ommegang with the host offering an after race party with a band, drink (first beer on them) and food for a reasonable cost. The awards ceremony will be held under a tent after the last racer comes in. Overall male/female in each race and also age group awards will be given.
For additional information, contact Race Director Doug McCoy at (518) 547-2800 x111 or visit the Drops to Hops event page on the Clarks Sports Center website.
Duck Derby Weekend at Fly Creek Cider Mill, Saturday, 9/26 and Sunday, 9/27, 2015, 10am-4pm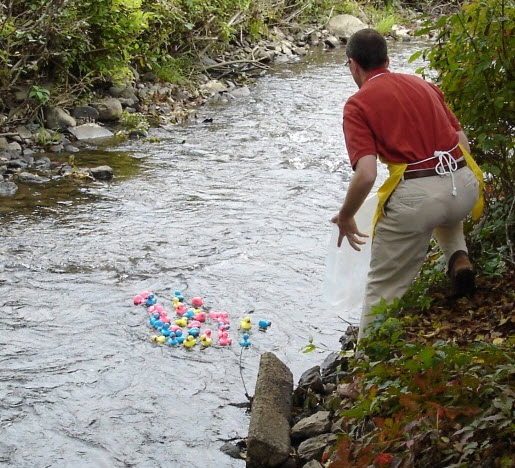 Enjoy an exciting weekend of rubber duck racing down Fly Creek and a chance to win valuable prizes. To benefit the Cooperstown Lions Club this weekend is filled with family fun and entertainment. Event hours are 10:00 – 4:00 each day and parking is free.
Fall Foliage Trains with the Cooperstown-Charlotte Valley Railroad
Saturdays and Sundays, September 26 – October 11, and Columbus Day Monday October 12.  Boards at Milford Depot., 1PM – Trip Duration: 2 1/2 Hours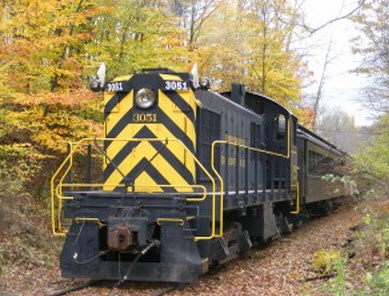 All Fall Foliage Trains that are not Train Robberies are standard fare.
Adults $15, Seniors (62 and over) $14, Children (3-12) $12, Under 3 FREE.
Reservations Encouraged but Not Required.  Food and beverages for sale on board.
A breathtaking ride along the tranquil Susquehanna River is the perfect way to take in the gorgeous fall foliage of the Cooperstown area – named one of the best places for foliage by The Today Show and Fodor's! The ride begins at the Milford Train Station, and travels through forests filled with vibrant colors and farm fields with beautiful views of the foothills. Travel along the tranquil Susquehanna River, through farm fields with beautiful views, and forests with colorful foliage.
Oktoberfest Train with Cooperstown-Charlotte Valley Railroad, Saturday, October 3, 2015, 6:00 p.m.
The evening starts by boarding our vintage train, grabbing a German beer, traveling with experienced crew to a location down the tracks for live German music, food and dancing. Many guests dress for the occasion but everyone enjoys the evening. You can remain relaxing in one of our 1926 passenger cars while crew pass out hors d'ouevre or enjoy the evening in our open air gondola. Many passengers lounge in our bar car before entering a recreated Hofbräu at O'Neil Station. Authentic German Food, and Beer, combined with Traditional German Music makes you feel like you are at one of the Famous Beer Gardens of Bavaria. As past patrons can attest Das Wunderbar!
All passengers must be 21 or older. Adults $30, Seniors $25, Groups of 10 or more $25. Reservations required – pleae call (607) 432-2429.
Big Squeeze Weekend at the Fly Creek Cider Mill, Saturday and Sunday, October 3 & 4, 2015, 10:00 a.m. – 4:00 p.m.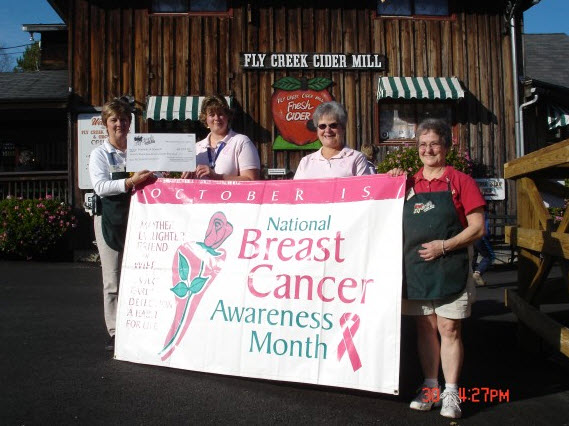 Kick off Breast Cancer Awareness Month with the Fly Creek Cider Mill's hosting of Bassett Healthcare's Mobile Mammography Program. Information regarding breast cancer and early detection through the use of mammography, and about the health beneifts of apples will be distributed. Bassett's Mobile Cancer Screening Coach will be on-site for screenings and exams.
Please note screening and exams are by appointment.
Tractor Fest at the Farmers' Museum, Saturday and Sunday, October 10 and 11, 2015, 10:00 a.m. – 5:00 p.m.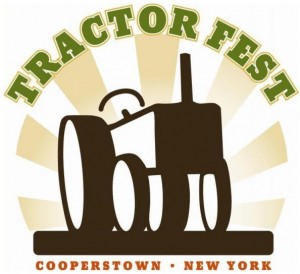 Learn about the world of tractors and all the activities they powered on New York farms. See classic tractors and new tractors, small engines, and other machinery, representing the growth of farming technology.
Event Activities
Over 30 classic tractors.

See tractors at work thrashing and baling

Hit-and-miss engines from the early to mid-1900s will be operating

An exhibit of antique milking machines

Wagon rides pulled by the Ford Golden Jubilee tractor

Kiddie tractor pull (age 7 and younger)

Browse hundreds of farm toys from years gone by in a farm toy exhibit

Tractor parade in Cooperstown (Sunday morning)
Fly Creek Cider Festival, Saturday and Sunday, October 10 and 11, 2015, 10:00 a.m. – 4:00 p.m.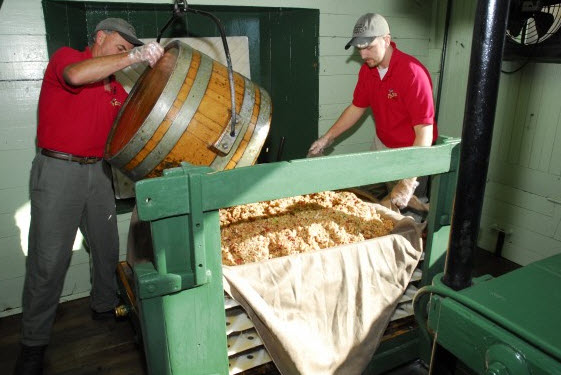 Enjoy cider, autumn's most flavorful beverage, at the peak of Upstate NY's spectacular fall foliage. Observe cider making operations throughout the day using the Mill's vintage equipment dating back to 1856. Sample our cider made without modern technology that provides a taste of NY's water-powered past.