How did Cooperstown become the spiritual home of baseball?  Take a look at the video below from the National Baseball Hall of Fame and Museum to get a glimpse into the history and the myth.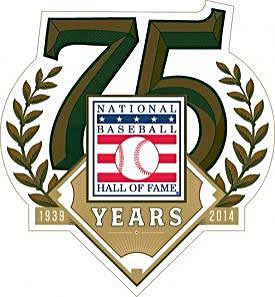 Regardless of the origins, the Cooperstown area is fortunate to have baseball so closely integrated into the community.  The Hall of Fame celebrates its 75th anniversary this year, having opened its doors for the first time in June of 1939, and has a full slate of celebration activities planned to mark the event.  
The Hall of Fame Classic Weekend (Friday, May 23 – Sunday, May 25), honors baseball legends of past and present with a Legends Game at historic Doubleday Field along with other showcase activities.  


75th Anniversary Birthday and Member Celebration (Thursday, June 12 – Saturday, June 14) reflects on the historic events in 1939.  Special guests and programs will take place through the weekend with special recognition of participants in the Membership program who have helped to support the organization over the years.  


The Hall of Fame Awards Presentation (Saturday, July 26) will feature the presentation of the Ford C. Frick award for baseball broadcasting excellence to Eric Nadel, the Buck O'Neil Lifetime Achievement Award to Joe Garagiola and the J.G. Taylor Spink Award for meritorious contributions to baseball writing to Roger Angell.
Hall of Fame Parade of Legends (Saturday, July 26) will feature members of the Hall of Fame riding down Main Street in trucks provided by Ford Motor Company (6pm) concluding with a red carpet arrival on the Museum steps as Hall of Fame members make their way to a private reception.

Induction Ceremony (Sunday, July 27 at 1:30pm) will take place on the grounds of the Clark Sports Center.  Unlimited free seating, water provided.  


75th Anniversary Celebration Concert (Saturday, August 2) features music icons, celebrities from the world of film and television, as well as baseball heroes for a two-hour salute to the Museum's role in American culture.  Highlights include the Boston Pops Esplanade Orchestra, former big leaguer Bernie Williams and twelve-time GRAMMY Award winner Paul Simon.  

For complete details on any of the upcoming events, please visit the Hall of Fame Website.  For your lodging needs for these featured events weeks and others, contact Fieldstone Farm Resort.