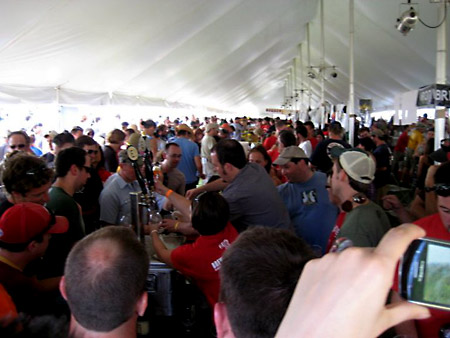 Each year,  on the first of April, beer enthusiasts from all over the country hover over their computer screens waiting for tickets to go on sale for this incredibly popular event.  It is not unusual for VIP tickets to sell out within a few minutes, and general admission tickets are typically sold out before the end of the day.  VIP tickets include a special multi-course dinner with creative food and beer pairings featuring Ommegang beers.
Belgium Comes to Cooperstown, or BCTC, is "the largest beer fest in the country dedicated exclusively to Belgian beers and Belgian-style beers brewed in North America" Syracuse.com.  The event is hosted by Brewery Ommegang, a Cooperstown brewer of belgian-style ales, and is set to take place this coming weekend on August 8 and 9.  The brewery is closed to the public during the event which will have a Las Vegas, "Sin City" theme this year.  Along with live music, there will be an Iron Throne replica on site to celebrate and promote the newest in the brewery's Game of Throne limited series of beers, the latest of which is called "Fire and Blood" – a beer spiced with de-seeded Ancho chilies. 
With over 50 brewers from around the world showcasing their belgian-style beers, the event records over 2,500 attendees each year.  Keep an eye out next Spring for ticket sales for the 2015 event.  If you are an enthusiast – it's one not to miss!  Book early to come for the week and stay with us at Fieldstone Farm Resort.