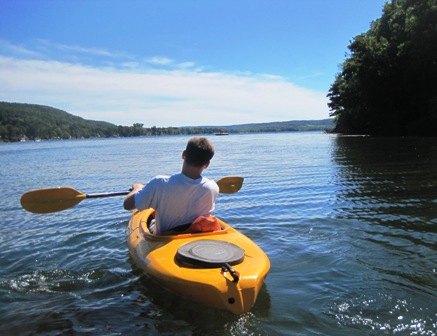 Summer has finally arrived (not sure we really had a Spring season this year) and we are enjoying some hot sunny days at last. To make the most of the season, our guests might like to enjoy some time on the water!  Our area boasts two state parks and some wonderful areas for water explorations with easy access to canoes and kayaks for a morning or a day.  
Fieldstone Farm Resort has canoes and kayaks and fishing gear available for our guests to use around the property, but if you would like a day off-site, there are many wonderful places to explore, both by land and by water!
We are located only a short drive from the following state parks where you can enjoy swimming, hiking, picnics and more. (click the links for details):
If you would like to explore one of the nearby lakes by canoe or kayak, you can rent them by the day and explore Otsego, Canadarago or Goodyear Lake or travel to some of our more remote and beautiful natural locations on the Blueway Trail (passive use only – hiking, bird-watching, fishing):
If you feel like a day of fishing, try a charter for the day on one of the area lakes or rent some gear and find your own spot!
Boat rental companies may also have fishing gear available for day use
A valid NYS fishing license is required for all fishermen ages 16 and older (available at any town office in the County).
Some of our local fish include:
yellow perch
brown bullhead
rock bass
largemouth bass
smallmouth bass
brown trout
rainbow trout
chain pickerel
pumpkinseed
bluegill
walleye