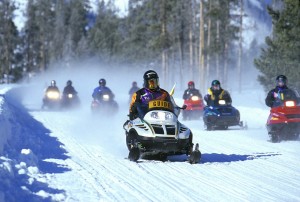 Now that the snow has arrived in our part of Central New York and the temperatures have dropped to a consistent below-freezing level, we expect our snowmobiling friends to be coming out to play!  In 2014-15, according to a report from the Office of Parks, Recreation and Historic Preservation, there were a total of 121,539 registered snowmobiles operating in New York State – with about 1360 of these registered in our own Otsego County.
If you are a snowmobiling enthusiast, you know that New York is a great place to sled!  According to iloveny.com, New York State offers over 10,400 miles of trails throughout a vast statewide trail system which traverses 46 counties.   There are over 230 local clubs associated with the New York State Snowmobiling Association and information is available there about events, trails, places to stay, tips and more.  Private landowners have increasingly opened their property to snowmobiling, with the protection of insurance coverage provided by the state snowmobile program.
Locally, there are some great snowmobiling resources available for riders.  One of our favorite resources is a locally developed phone app that can be accessed even when cellular data service is not available – a great feature for when you are not sure what direction to go when riding our local trails.  The premium app for all of New York State is available for download at both the AppStore and Google Play for $20.  Find parking, areas of interest, tourism locations, stopping areas and trails and trail conditions along with additional tools to help plan your route.  This technology is developed by Mohawk Valley GIS , a Utica based company established in 2003 by Linda Rockwood.
You can access the information for free online at http://www.nysnowmobilewebmap.com/webmap/ and you can find them on Facebook here: https://www.facebook.com/NYSnowmobileWebMap
Although many of our main attractions are closed for the winter months from January through March, there are still some lovely stops to make throughout the area including the National Baseball Hall of Fame and Museum in Cooperstown.  We wish all of our snowmobiling guests a safe and enjoyable season.  Enjoy the trails in Otsego County!