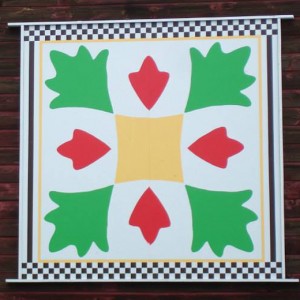 Old barns are a mainstay of the upstate landscape.  They are landmarks for locals when giving directions to visitors, and are a representative depiction of the idyllic country setting – a marker of our rich farming heritage.   One great way to view some of these old barns is to visit a Quilt Barn Trail.  These regional travel adventures were made famous by Donna Sue Groves, an Ohio resident and founder of the American Quilt Barn Trail.
Barn owners apply to participate in a Quilt Barn Trail in their region.  In most cases, the barn must be visible from the roadway and the road must be in good condition.  The barn owner paints a single quilt square usually 8' x 8' in size and affixes this panel to the side of the barn in a position where it can easily be viewed by the road.
What a wonderful way to connect art and the rural landscape!
For a Quilt Barn Trail in our region, visit the Schoharie County Quilt Barn Trail which was launched as an outcome of the damaging floods of August 2011.