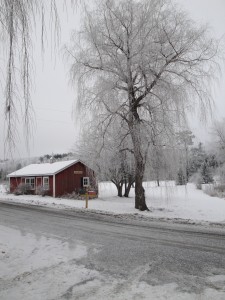 As much as we might get tired of our long winters here in Upstate NY (and understanding that 'long' is a relative term), there is no denying that a fresh blanket of the white stuff can make our region one of the most beautiful places on earth.  Although we might only get two or three really big storms each year, we do often get daily snowfall – just enough to cover things up and restore the pre-plow pristine white.  These light snows are a standard – they occur throughout the season and require only a quick daily sweep on a driveway or pathway to clear – no shovel or heavy lifting needed.
As we head into the months of February and March, we will begin to experience the daily cycles of freeze/thaw (barring any polar vortex events).  The sap will begin to flow and we will begin to find our landscape dotted with the spires and buckets of maple sugaring apparatus.  For more on Maple Sugaring see our post from last year here.
At the time of this writing, we are preparing for one of those larger snowstorms with about 10" currently being predicted.  This one is sure to require our shovels.  Although we are acclimated to these occasional storms, our thoughts go to safe roadways for travel, no power outages for our neighbors and warm places to seek refuge from the wintry chill. Despite this, we look forward to the silence that often comes with a larger storm and the beautiful and ethereal landscape that it will provide here in our area.